What is a 3D hologram?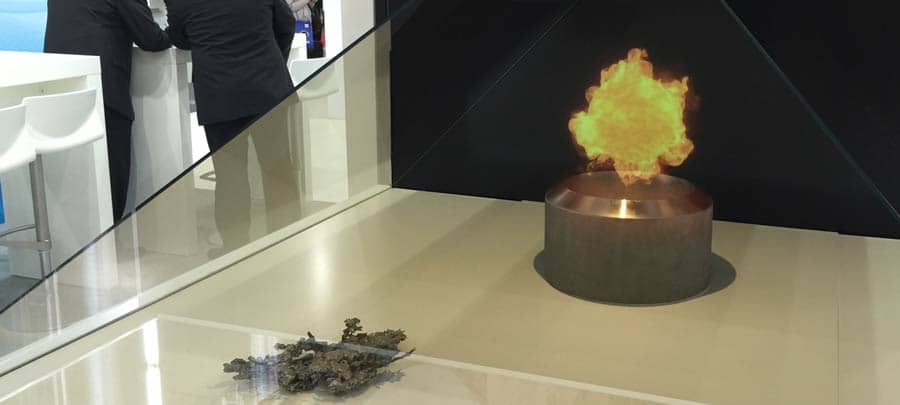 Definition 3D Hologram:
According to the definition, a 3D hologram is a 3D projection that is freely located in space and can be seen by everyone without 3D glasses, etc.

Holography is the next level of photography as well as classic film and creates completely new possibilities, e.g. for product presentations, due to its three-dimensionality. A 3D hologram stages products, objects and animated sequences in three dimensions and makes it possible to make seemingly real objects or animations float completely freely in space. Compared to a movie on a normal monitor, a 3D hologram is visible from all sides – so the viewer can walk around the hologram, creating an absolutely true-to-life image.

Especially interesting – the 3D hologram can be seen by everyone without 3D glasses compared to 3D TV or Virtual Reality which is an unlikely advantage for the use e.g. at exhibitions.

In this way, with 3D holograms, a completely new and revolutionary way of product presentation can be offered. The products are presented in a high-quality, exclusive and innovative manner, while at the same time precisely meeting the needs of the relevant target groups.

Also recommended is an acoustic background perfectly matched to the 3D hologram, with background sound and special sound effects. This increases the attention span of the viewer and subconsciously anchors the presented product even more firmly in the viewer's mind.
What is needed to display a 3D hologram?
Three things are usually needed to display a 3D hologram:
1. A hologram projector (also called holography pyramid or holography display), which enables 3D holographic projection.
2. A 3D hologram which is freely projected into the room and shows the content (in our example the whiskey which virtually flows into the glass).
3. a real object or product surrounded by the hologram (in our example the glass)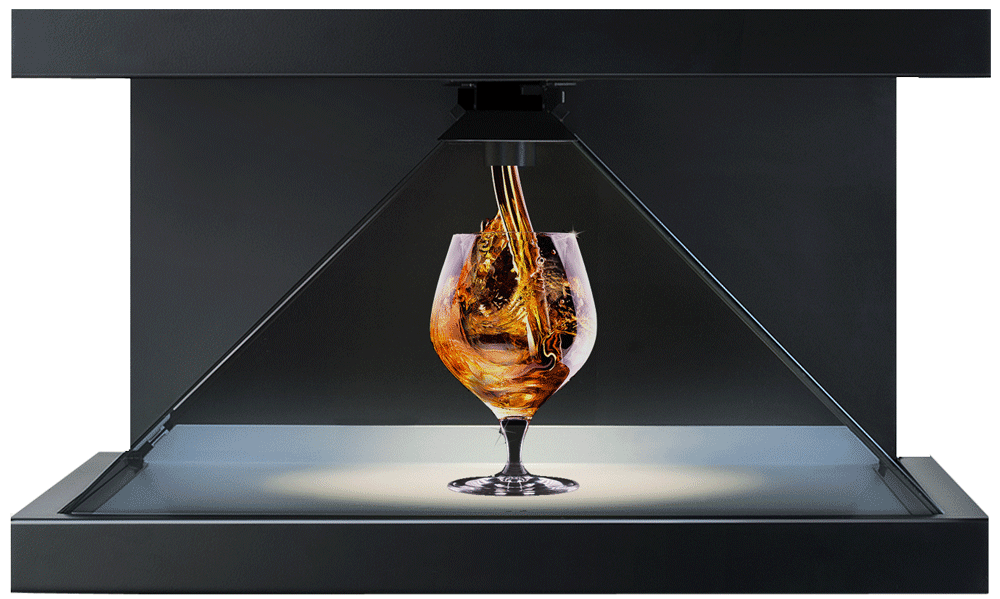 Hologram projectors are available in different sizes, which are optimally adapted to different purposes and products. 3D holograms are convincing due to their versatile application possibilities.
What is a 3D hologram used for?
To present products in an innovative way:
3D holograms are a completely new and innovative way to present products in an innovative way and to present the USP's to potential customers in an impressive three-dimensional way. In contrast to conventional forms of presentation, such as product films, customers receive a much more realistic and detailed impression of the products presented. In addition, holograms can be used not only to represent concrete products three-dimensionally, but also to realize visual effects such as fire, rain, fog, smoke, which cannot be realized in this way with any other form of presentation. Even a classic diagram is an absolute eye-catcher as a 3D hologram.

To create emotional worlds:
3D holograms make it possible to showcase products in a unique way. In this way, holograms can be used to create a visually appealing and stylistically perfectly coordinated environment that exactly matches the product.

A virtual gold rain sets the scene for precious pieces of jewelry such as watches or necklaces, it rains and snows on an all-weather tire or the sun burns on it, industrial machines are created live and as if by magic before the eyes of the viewer – the possibilities are endless and there is a suitable visualization option for every product.

No other technology manages to highlight the benefits of products in a similar way as 3D holograms. The viewer feels directly, emotionally addressed and is drawn into the spell of the presented products thanks to the incomparable staging.

To explain technically complex things simply:
3D holograms are an ideal way to present complex relationships in a clear and easy-to-understand way. In doing so, these penetrate into previously unknown dimensions that are generally not reached by sketches, drawings, photos, videos as well as PP presentations. This opens up completely new possibilities for making even extremely complicated issues easily comprehensible to potential customers. This ultimately benefits not only potential customers, but also means an invaluable competitive advantage over the competition.

To positively surprise customers:
In today's world, where people are tempted to think they've seen it all, it's invaluable to be able to surprise your customers with something new. With a 3D hologram, this is achieved in a particularly impressive way, which leads to the fact that not only the represented product remains permanently anchored in the memory of the customer, but also the associated company. This also presents itself as innovative as well as on the pulse of time through the use of holograms. With a 3D hologram, you can take advantage of the incredible surprise effect of this forward-looking technology, which generates attention like no other and makes a lasting impression on your customers.
Where is a 3D hologram usually used?
The possible applications of 3D holograms are as diverse as they are impressive. 3D holograms will be used for, among other things:
– Fairs
– Events
– Events
– Museums
– Exhibitions
– POS presentations
– Product presentations
– Showrooms
– Flagshipstors
– etc.
For every place, occasion or purpose there is a suitable holographic system. It is important to have a good briefing in advance so that all parameters can be taken into account to create a 3D hologram that is perfectly matched to the product in question.
Why is a 3D hologram so fascinating?
3D holograms are new, innovative and known to most only from Hollywood movies. Today, these are a reality, and in a particularly impressive way. Due to the discrepancy between what the eye sees and what the mind is aware of, an above-average attention span can be achieved, which is especially ingenious for anchoring product information or for image building. For although the eye perceives an apparently real object or effect, such as fire, the brain knows that what it sees cannot be real. And exactly this effect automatically generates a long attention of the viewer, so that 2-3 minutes long holograms are seen completely by up to 80% of the viewers – an effect that can hardly be achieved with a classical film on a monitor.
Quite apart from that, a 3D hologram is extremely appealing and therefore not only excellently suited for the presentation of complex technical interrelationships, but also particularly predestined for the presentation of precious pieces of jewelry and visually similarly appealing goods. They make it possible to additionally emphasize their beauty, their perfection and to stage them in a particularly aesthetic way. Thus, even the presentation is a sensory experience in itself.
For which industries is a 3D hologram suitable?
3D holograms are suitable for all industries. Whether industry, mechanical engineering, pharmaceuticals, medical technology, food, telecommunications, automotive or others, there are virtually no limits to the possibilities. Products, processes and procedures that require explanation benefit from this new presentation technique just as much as classic products that need to be presented in an innovative way.

When an eycatcher is needed – the hologram is the suitable customer magnet.

No matter what industry, no matter what product, it is important that for each customer, according to the briefing, an individual hologram is developed, which fits exactly to the customer, the target group and the environment. This guarantees an impressive 3D hologram, which arouses the interest of potential customers and retains existing customers.
What does the workflow look like when developing a 3D hologram?
The creation of a 3D hologram is divided into four steps:

1. the idea:
At the beginning there is always a good briefing to get an idea of what product, service or process it is about, what the message should be, what the USP's are and where the 3D hologram should be used. From this briefing the basic idea is developed, how can the hologram look like, which effects strengthen the eye-catcher effect, which hologram projector fits to the product and the place of application. We coordinate all of this with the client to ensure that all of the client's wishes are taken into account before the storyboard is created.

2. the storyboard:
The storyboard describes and visualizes the key scenes and content of the 3D hologram. After approval by the client, the 3D designers and motion designers as well as the sound artists get to work.

3. the design:
3D models are built, or supplied CAD data is imported and then photorealistically textured and set in the right light by the 3D designers. Thanks to the effective 3D programming, additional effects and suitable music as well as a lot of computer capacity, the animation now comes to life. The motion designers visually implement the basic idea and the sound artists underlay the hologram with sound and multiple sound effects to create a multi-sensory effect.

4. The finish:
The magic of animation becomes perfect when a real object inside the system serves as a reference. It can be a product, 3D lettering or a seemingly simple base. In this way, an illusion with WOW effect is created, which delights everyone. The 3D hologram is tested live on the hologram projector requested by the respective customer to ensure high quality and to achieve an optimal result. Depending on the selected hologram projector, the setup is done by the customer, booth builder or, in case of large hologram projectors, by a special technical team.
What successes can be achieved through the use of 3D holograms?
Some of many benefits often mentioned by customers after using 3D holograms:
– Increased lead generation of up to 30%.
– Easier entry into discussions for the sales department
– Longer dwell times at the trade fair stand
– Higher sales at the POS or in food retailing
– High attention span of 2-3 minutes
– Long lasting memory value, far beyond the presentation
– Positive image building as an innovative company
– High multiplier effect
– Positive customer feedback "…I didn't expect that from you at all…, …that's awesome…, …the first time I understood it completely…"

A 3D hologram convinces with numerous advantages, which promise companies a clear advantage over their competitors and clearly distinguish the products from those of the competition. 3D holograms are absolute eye-catchers that immediately attract the attention of potential customers and permanently anchor the product presented in this way in the viewer's memory. They also provide more contacts, make it easier to start conversations and guarantee better lead generation.

A unique potential – the success of 3D holograms speaks for itself.
If you have any questions about 3D holograms, just contact us.
The Magic Holo team will be happy to advise you.
Give us a call
We are happily looking forward to hearing from you!